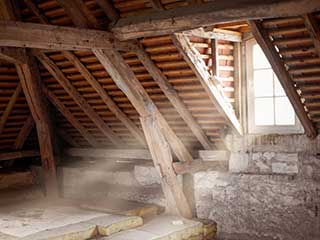 When Was the Last Time You Cleaned Your Attic?
Most likely, the answer is a long time ago! Unless you already have your attic regularly cleaned, the dust that's building up more and more over the years can be causing all sorts of issues without you realizing it. There may even be rodent droppings and carcasses causing contamination that you don't know about.
What Problems Can A Dirty Attic Cause?
Unfortunately, all sorts of problems! If rodent remains or waste are in fact in your attic, they could easily be spreading disease onto your belongings that can be brought down into the household. There's also the issue of foul odor, and even if you can't smell it, other pests certainly can. It's bound to bring in insects, which will cause further trouble with infestations, which is the last thing you need!
As for the layer of dust, it does much more than just cause a mess! It's the perfect environment for mold and mildew to grow and spread. This will eat into your stored items, the wood and insulation of your attic, and on top of all of that it's a health risk. The integrity of your attic can be harmed thanks to these conditions, which will be costly to fix. Dust will also clog the vents used to keep air circulating through the house and pollute the air that's brought into the rest of your home. Lowered air quality will certainly aggravate allergies, cause fatigue, and far more risky issues for those with breathing disorders like asthma.
Let Us Handle It!
Our professionals can come out quickly and get to work clearing out dirt and debris from every inch of your attic, including those hard to reach spots. We'll get it taken care of carefully, so that none of the dust can contaminate the rest of the household. Your attic will look spotless in no time, and the safety of your household will be secured.
Contact Us Now!
Need any help with your attic? Schedule online now or give us a call anytime for more details. We are at your service!
You can also count on us for:
Crawl Space Insulation Replacement
Cleaning & Decontamination
Commercial Attic Cleaning