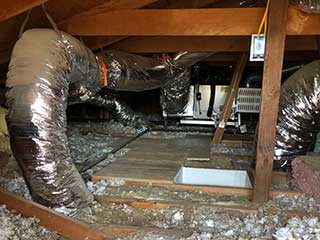 The small space under your home known as the crawl space is more important than you might realize thanks to the cables and pipes that run through it to give your home electricity and running water. Find out how we can help keep these utilities protected below!
Excellent Cleaning Services
While your crawl space is easy to forget about, it's best for you and your home in the long run to keep it cleared out with periodic cleanings! Despite being relatively closed off, this area can become bogged down by a variety of issues like debris, water damage, and otherwise. Not only do these problems encourage unwanted pests like insects and animals to come inside, but it can cause mold growth that will damage the wood and rust that will eat away at the pipes. Our experts will carefully go through the area and remove all of these potential problems for you with our high-quality equipment.
Careful Decontamination Process
If pests have been in the area, especially if rodents were the culprit, they likely left behind more than just a mess. Rodent waste can carry nasty bacteria that are able to make its way into your household thanks to the hot air that rises up through it. We'll use a special sterilizing spray to safely remove all traces of their waste and potential diseases so you won't need to worry!
Ethical Rodent Removal
Should the rodents still be present in the crawl space, we can help! Rather than use toxins to kill them that can also harm your pets and pollute the air, we employ a much simpler and safer method. We use trapping to catch the rodents and remove them instead, thus getting them out of your home without needing to use poison. These rodents can cause a lot of damage to the crawl space including potential fire risk if left to chew through cables, so it's best to get them removed ASAP!
Schedule Your Appointment
Call Attic Cleaning Burbank so we can get to work!