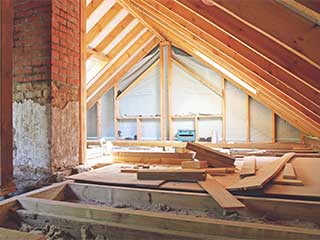 Removing Your Insulation
We all understand that insulation helps keep your home warm in winter and cool in summer, lowers your utility bills and is an all-round great idea. But when your attic is home to degraded, moldy or damaged insulation, the situation looks a bit different.
Signs You Should Call Us
Firstly, your electricity bills will start to rise. Secondly, the mold or damage could spread and cause structural damage to your roof. Most importantly, degraded or moldy insulation can cause serious health problems for the people living in your home.
How Our Specialists Can Help
Removing your attic insulation requires professional equipment, experience and know-how. That's why when it's time to remove your old padding, you should call our team of insulation experts.
Pulling up your old insulation is not as easy as it sounds. Most people who try to remove their own insulation end up doing more damage to their attic and if done incorrectly, it could even make them very sick. Old insulation may have degraded and dislodging it will cause chemical particles to become airborne.
When you need your old insulation removed, you need to call in the professionals.
When It's Time To Say Goodbye
So how do you know it's time to get rid of the insulation in your attic? If you're experiencing any of the following situations, then it's time to call in our experts:
Higher energy bills than last year:
If last December you paid $60 for electricity and this December you paid $90, you should get your attic inspected for damaged insulation.
After a rodent infestation:
Rats, mice and other pests love to hide in insulation, but once you get rid of the pests, it's time to get rid of their nests!
Recurring health problems:
Most household ventilation systems run through your attic, so if there's any mold in your attic or insulation, it may be causing you to get sick.
Call our specialists at Attic Cleaning Burbank to get your insulation removed professionally, safely and affordably today! Our experts also perform attic and crawl space cleaning and decontamination.