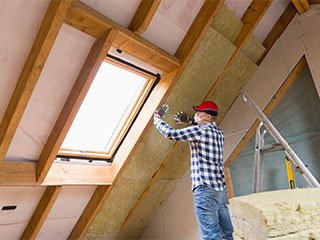 Have Your Insulation Looked At

Insulation is a huge component of what keeps the temperature in your home stable, so if something's wrong with it, this may be the cause of your trouble! There are many possible reasons for having issues, including age. Insulation doesn't last forever, and if it's been in the home since it was built, there's a good chance it's become heavily degraded and is slouching out of place, creating cold spots that are making the temperature jump around as it has. It may have also been damaged from water leaking onto it, or even rodents ripping it up for nesting. It's possible too that it simply isn't the right amount for your area, so it's not properly insulating the house to begin with. Whatever the issue, professionals will be able to get it sorted out and replace it if necessary, or if you decide to upgrade to a kind that may better suit your needs.

Get Attic Air Sealing Installed

Even with great insulation, it's possible that air is still escaping out of your home's attic. This is because of cracks or spaces that can occur over time, caused by minor damage, or even as the result of a manufacturer error. In any case, if certain rooms in particular seem to have trouble with temperature regulation having a professional come out and close up the gaps to create an air tight seal in your attic may make all the difference in ensuring air can circulate properly and keep things stable.

Install A Radiant Barrier

If the problem is with heat in particular and you live in a hotter climate, a radiant barrier may be the answer to your issue! A radiant barrier will bounce the sun's rays away from your house, rather than allowing them in to heat up your household. It's a more natural way of keeping your home cool and can be particularly useful if your home doesn't have air conditioning. Even if it does, it can ease the strain on it needing to run often in the sweltering summer months and save you on energy spending as well!